Boating Accessories
East Side Marine, located in Evansville Indiana has been serving the Tri-State area since 1960. We keep our dealership packed full of toys designed for fun in the sun or maybe even a moonlight cruise! Our large facility provides convenient indoor shopping year round. If you are shopping for a new or used boat, East Side Marine has more selections than you will find anywhere in the tri-state area. If you already own a boat, we can work out a trade or sell it for you on consignment. We can even help with the financing!
EAST SIDE MARINE | EVANSVILLE, IN
Powering your boat is just as important as the boat itself so East Side Marine carries the industry leading power plants from Mercruiser, Mercury, & Yamaha. Whether your choice of power is stern drive, straight inboard, jet drive, or outboards with the latest technology we can accommodate your needs. Our full service marine operation sells industry leading Sport Boats, Sport Cruisers, & Sundecks from Sea Ray, Lowe Fishing Boats, Hurricane Deck Boats & Pontoons & Tritoons by Godfrey, Sweetwater, Aqua Patio, & San Pan. Contact East Side Marine for all of your boating needs. Our full time service specialists are factory-trained professionals who take pride in their work & have the tools & equipment to do the job right. From minor repairs to complete engine rebuilds, tune ups, trailer repairs, custom canvas, upholstery repairs, fiberglass work, prop repair & welding, contact East Side Marine's service & maintenance department today! 812-476-BOAT (2628). We also offer inside & outside boat storage. Stop in & check us out today! Less than 15 minutes from Henderson, Kentucky.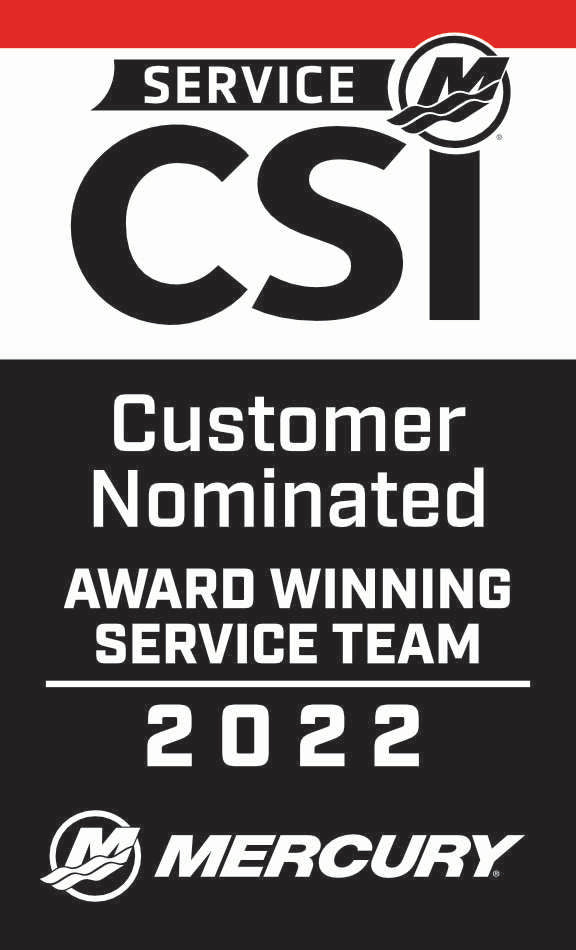 Mercury Marine Service Award
Mercury Marine has presented East Side Marine of Evansville, IN, its prestigious Service Customer Satisfaction Index (CSI) Award for 2022. Mercury Marine's Service CSI Program measures the satisfaction of consumers after having service work done on their Mercury outboard or MerCruiser product. East Side Marine won the Service CSI Award for its ongoing commitment to providing exemplary customer service based on the responses of customers who had warranty work performed at the dealership during the past year. The CSI score for each dealer is measured and monitored by Mercury Marine. After warranty work has been completed, Mercury sends out a Service CSI survey to the consumer, asking him or her to rate the service received. To be eligible for the Service CSI Award, a dealer must maintain a score of 94 or better out of 100 in the Service CSI survey. These surveys ask consumers to rate their overall service satisfaction with the dealership and also indicate if they would revisit the dealership again in the future. Tracking Service CSI scores is a way Mercury evaluates the effectiveness of its individual dealers and of its own policies and training programs. Dealerships that score high in Mercury's Service CSI surveys are recognized through the awards program.
East Side Marine | 812-476-BOAT (2628)
Experience matters! serving the Tri-State area since 1960.
EAST SIDE MARINE (812) 476-BOAT!
Our courteous and professional staff are here waiting to help with all your boating needs.
East Side Marine is Evansville's Premium Boat Dealer. Our full service marine operation sells industry leading Sport Boats, Sport Cruisers, & Sundecks from Sea Ray, & Lowe Fishing Boats & Pontoon Boats, the Godfrey Pontoons line which include Sweetwater, Aqua Patio & San Pan & a large selection of used boats. We carry everything you could possibly need in our huge accessory department which is the largest in the tri-state area, including O'Brien skis, kneeboards, wakeboards, inflatables, ropes, vests, gloves, water carpets, water saddles, lounges, & our all new SUP's (stand up paddle boards). If we don't have it in stock, we can normally get it for you in a couple of days! East Side Marine can store your boat for the winter in one of our indoor storage buildings. Your boat will be safe and secure, protected from the elements. We also offer outside storage inside our fenced in service lot for customers not requiring inside storage.
Southern Indiana Boat Dealer
Visit our all-new virtual Godfrey Pontoon Boats product showcase to re-watch the live launch event, discover our newest innovative features and explore our featured Godfrey models in 3D. Explore our Godfrey Pontoon Boats Showcase.
STORE HOURS
Mon - Fri: 8:00 am - 5:30 pm
Sat: 8:00 am - 4:00 pm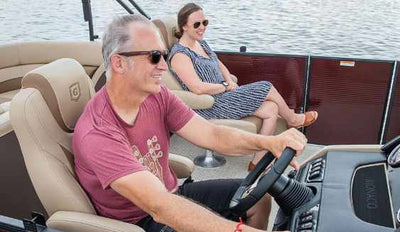 Testimonials
Great place for all your marine needs & advice! Low prices on boat accessories. Very friendly & helpful staff!

B.J. Flittner
Ron and Dixie at East Side Marine made it easy for me to sell my deck boat. I had tried for months and they sold it within weeks.

Dave Mathews
Great and very helpful staff! They made my first boat buying great!

Bradley A Rupska